Cosmetic Facial Wrinkle Fillers
Cosmetic Facial Wrinkle Fillers  Reverse Signs of Aging
Facial volume loss  is a natural occurring process in both men and women as they age.
Rates of volume loss, however, vary depending on weight gain or loss, physical activity, genetics, and medical conditions.
As the natural facial fat pads  disappear, volume loss becomes noticeable. This volume Loss begins during  the  teenage years but may not be noticeable until the 20's or 30's , depending on factors such as overall health, genetics, weight gain and  loss.
These fat pads occur naturally, providing lushness to a younger face.  Starting in the later teenage years, facial fat pads begin to disappear.  This continues throughout life and is one  major reasons why one looks older.  Wrinkles become more prominent (more noticeable) and features become less distinctive. Cosmetic facial fillers are designed to subtly restore this volume loss.
This illustration shows the fat pads on a youthful face, a middle aged face, and an elderly face
Dr. Burke uses facial fillers to artistically create a subtle, beautiful, and natural appearance.
There are also other factors which influence the appearance of aging:
 What are the Uses for Cosmetic Facial Wrinkle Fillers?
They can be used for smoothing a small wrinkle or evening  a deep furrow.
What Cosmetic fillers help correct:
hollowness around the eyes
add fullness to thin lips
balance a face that is out of proportion.
restore fullness
create stronger features such as prominent cheekbones, a more angled jawline, or a more prominent chin.
To maximize natural facial rejuvenation,  Platelet Rich Plasma (PRP) containing your bodies' own Growth Factors (PRFM) may also be injected  at the same time, boosting the action of fillers. (Some refer to this as the Vampire lift, but that is a misnomer since this is only one part of maintaining a healthy, youthful, natural appearance).
Dr.Burke is a Liquid Facelift Expert and a member of the national P.A.L.E.T.T.E. faculty which trains physicians in use of cosmetic facial fillers including Bellafill® ,Restylane®, Juvederm®, Dysport®, Botox®, Voluma, Volbella, and Sculptra® Aesthetic.
He is the first physician in Ann Arbor to offer Bellafill, providing a more permanent solution with longevity of 5+years, making it the longest lasting FDA approved filler available.

Cost of Facial Fillers:  including , Juviderm, Voluma, Perlane, Restylane, Sculptra, Radiesse, Volbella. 
Cosmetic facial fillers used by Dr.Burke include: 1. hyaluronic acid fillers (Juviderm, Volbella, Voluma, Restylane, Perlane); 2. collagen and PMMA (Bellafill);  and those derived from polylactic acid.
Each filler has a different formulation and purpose.  The choice depends on the area to be treated, physical findings, your medical history, and the desired length of action.  Some last on average 6 months while others last up to 5 + years.
Fees are per syringe and average $750 for hyaluronic acid fillers.Additional savings are available with Volbella, Juviderm Ultra Plus, and Voluma for those who are enrolled in Allergan's Brilliant distinctions program.
Bellafill fees range from $800-1195 depending on the condition treated and the number of syringes used.
Please call us for further information and to arrange a free  consultation.  Options will be discussed and you will be given a  pricing quotation if you are a candidate for the procedure. This consultation can provide additional clarity for you regarding your needs and the best option for you.  Digital computer imaging is available and may be used to analyze your facial areas of concern, providing  simulated before/after images prior to your  treatment.
Liquid Facelift (Alternative to a traditional facelift: A.K.A. V-lift)
The Liquid Face Lift (V lift) is a nonsurgical alternative to a facelift for those wishing immediate correction while avoiding a surgical procedure.   Lost facial volume is replaced, making wrinkles less prominent and features more distinct.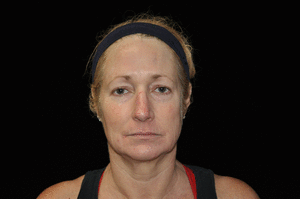 View Liquid Facelift results photos(V lift)
Here is a note written by one of our patients following treatment of lost facial volume:
Bellafill® is a polymethylmethacrylate (PMMA) collagen filler which provides immediate volume and lift while the PMMA microspheres remain in place and create a matrix that supports collagen production in your skin for lasting improvement.
View Combined Sculptra-Pelleve results photos
Noninvasive skin care treatments such as Dysport®, BOTOX®, microdermabrasion, glycolic peels and laser photorejuvination are often combined to add a more youthful, yet natural effect. They can be scheduled on your lunch hour.
Dr. Burke uses hyaluronic acid fillers for specific facial areas, making recommendations based on your needs determined during the consultation appointment.  Considerations include the surface condition of your skin, its overall color and glow, and its underlying volume.  Options for hyaluronic acid based fillers include: Juvederm®, Juviderm Ultra Plus, Voluma,and Volbella.The choice of filler is determined at the consultation and depends on the location to be filled and patient goals.
View Hyaluronic Acid Filler results photos
For those preferring the most natural filler – the use of your own fat (lipotransfer) – is an additional option.
Save
Save
Save